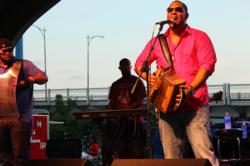 The "Let the Good Times Roll Festival", celebrates the 27
th
year of the music, art, and food of north Louisiana African-American culture. It will be held June 21, 22, and 23rd in downtown Shreveport's Festival Plaza. 30,000 plus festival-goers will enjoy a vivid array of culture, food, arts and crafts, and gives families and friends an opportunity to come back home and share with friends.
Rho Omega is a chapter of The Omega Psi Phi Fraternity Incorporated. The Chapter was organized 90 years ago this year. "When the Late Hilry Huckaby was on the City council, the opportunity to create a festival to celebrate Juneteenth and Black Culture was discussed. Huckaby was a member of the Fraternity," said Calvin Lester, former City Council member and community leader. "It was decided that the Festival should be done by a non profit, thus Rho Omega and Friends was created. The first festival was in the 500 block of Milam Street on the back side of the courthouse."
2013 brings a new lineup which features great artists like Mystikal, Silk, Juvenile, and new to the festival, Dirtfoot, a gypsy punk country grumble boogie band.
Also featured are regional favorites like Keith Frank & Soileau Zydeco Band and local favorites like Alter Ego, Windstorm, and Dorsey Summerfield & the

Polyphonics

. The festival's itinerary can be found

here.
Other new developments include two stages of entertainment. "This is a first for the festival," said Fred Moss IV, the festival coordinator. Along with a second stage of entertainment, DJ BIZ MARKIE
will be on the Willie J.C. Critton
Stage Sunday evening at 6:30. "We usually get old school R&B groups from the 70's and 80's, but we are trying out a DJ this year."
The artist, Cupid will be promoting his new workout CD Friday, June 21st
on the Main Stage. "This will be Friday morning with the kids in the "Health Zone" which is sponsored by the Caddo Commission," Moss added.
The proceeds of the festival go toward supporting Rho Omega's community work which includes sponsor scholarships for college bound students. Project Manhood, which is a college preparation program introduces young men to colleges and universities as well as preparing students preparing for the ACT/SAT college entrance exams and working with them to build skills needed to be prepared for a successful future and community leaders. "The proceeds of the festival go toward supporting our community work. We sponsor scholarships for college bound students," said Lester. "We would like to thank the entire Shreveport-Bossier Community for their support. We couldn't provide this level of scholarship and college prep for the young men without their support."
Admission is $10 for adults and free for children, ages 5 and under. Special rates are available for groups. For more information, visit http://www.rhoomega.com or contact Henri Wesley (318) 393-7084 or Fred Moss IV at (318) 470-3890